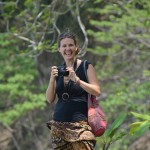 Ok, that's it. I need to do more frequent blog posts. Initially my goal was to post one a week. The problem is by the time the week is over I'm overwhelmed by all the possible things I could write about and I put off writing anything!  So this week I'm gonna try for a post every other day. We'll see if that helps. But first to catch up on the last week and a half.
The caterpillar lab is finished and we're enjoying putting it to use!

In fact I got to have an extra lab assistant this week in the form of 7 year old Summer, my soon to be niece.  The schools here are on their 2 week winter break, so she's spent the last couple days of it hanging out here & helping me in the butterfly garden
THE WORLD CUP! Do I really need to say more? Well just in case you missed it, Costa Rica had a 1 in 4,000 odds of winning the world cup but made it all the way to the quarter finals where even in that game they shut out the heavy-weight Netherland's team in regular time and pushed it to a penalty kick round. It was a historic moment for Costa Rica and an incredibly special time to be here.
As for my mystery caterpillars…in an incredibly anti-climatic twist, two of the chrysalises I've been waiting on emerged but eluded my camera! 🙁 One was a beautiful large yellow swallowtail,  similar if not exactly the same to the one pictured here (Josh tells me there are a few different species that  look very similar in the area) Meanwhile the other one escaped on me so entirely that I'm not sure even what it turned out to be (Either, one of our volunteers accidentally let it out of the pupa house or I unknowingly released it with a bunch of others who emerged the same day) Ironically, the chrysalis didn't look any different after it emerged, so even though I was checking it daily I didn't notice that it was empty until possibly weeks later. *shaking head* Oh well, at least it emerged.
On the more encouraging side of things, I have gotten to see 2 more Adelpha caterpillars pupate and emerge in the last week. Actually I had 3 other mystery caterpillars form & emerge too (1 moth and 2 butterflies) and 3 other mystery pupas formed. This is why I have to post more often, its just too much to try and fit into one blog! But this week I'll do better I promise. I'll introduce you to the new caterpillars I am currently raising and maybe catch you up on a few of the others that have recently formed or emerged.