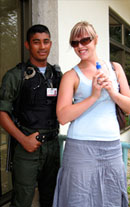 Currency:
The local currency is the colon. For quick conversion, think of a 1000 colon bill as about $2. The exchange rate can fluctuate daily, and in the past two years we have seen it as low as 490 colones to the dollar, and as high as 565.
If you aren't good at doing math in your head you'll appreciate a small pocket calculator. US dollars are widely accepted, but expect the change in colones. $20 bills are the most easily passed. Banks are generally the best places to exchange money as they tend to give the best rates. If it gives you peace of mind you may purchase colones before you leave home, or simply wait to trade currency when you reach San Jose. Inside the airport is a completely safe place to exchange money, but you may not be offered the best rate. There is an official taxi window at the airport in San Jose where you may pre-pay for ground transportation via credit cards or US currency.
Credit Cards and Bank/Debit cards: Before leaving home please contact your bank and credit card service to insure you have a complete understanding of how each card works in a foreign country. Fee structures differ from bank to bank as well as from card to card. In addition credit cards have a different fee structure than debit cards (even when issued from the same bank). Furthermore credit cards used for cash advances often incur very high fees. Generally speaking, credit cards are great for big ticket items or emergencies, have good exchange rates, and allow you to save your money for "cash only" situations. Debit cards are the most convenient and fastest way to trade currency (thanks to the ATM), give bank exchange rates, and are safer to use than stashing tons of cash in your shoes. Visa is the most widely accepted credit card in Costa Rica and the PLUS system is the most available system at the ATMs. Be sure to ask about cash discounts before making any plastic purchases
Traveler's Checks: Traveler's checks are less convenient and usually more expensive to use than the bank debit card. You must find a location to cash them and then hope that it is open in your hour of need. However you can't beat the guarantee for replacement if they are lost or stolen. US dollar checks from American Express are the most widely accepted.
Money in Montezuma:Money in Montezuma: There are some peculiarities you must understand about how money works in Montezuma. In town both of the grocery markets, some stores, and some tour operators will accept credit cards as well as US dollars. Most restaurants are cash only. There is no bank in town. Traveler's checks can be cashed at 3 different locations (when the stores are open and if the owners are present.) Most importantly there is only one ATM in Montezuma that is only serviced weekly. It dispenses both dollars and colones, but tends to empty before the weekend. The next closest ATM is at the Banco National in Cobano. There are two ATM's outside the bank, but sometimes they don't accept foreign cards (even though it displays the identical system logo as the one on your card) and one ATM is for national and central american banks even though there is no sign designating it as such. Don't panic. Debit card cash withdrawals and/or credit card cash advances can be handled at the teller window inside. These transactions require your original passport in hand as ID. The bank in Cobano is open Monday thru Friday 7:30am-4pm, although if there is a line inside they close the doors to new customers as early as 3:15, and they are closed on the weekend. It is a 30 minute car/bus ride from Montezuma to Cobano. Remember your first attempt at the ATM should always be during banking hours. It is most convenient to transact enough cash to see you through several days.



Source: Exchange Rates



var _gaq = _gaq || []; _gaq.push(['_setAccount', 'UA-29688455-1']); _gaq.push(['_trackPageview']);
(function() { var ga = document.createElement('script'); ga.type = 'text/javascript'; ga.async = true; ga.src = ('https:' == document.location.protocol ? 'https://ssl' : 'http://www') + '.google-analytics.com/ga.js'; var s = document.getElementsByTagName('script')[0]; s.parentNode.insertBefore(ga, s); })();